Letters to a Writer of Colour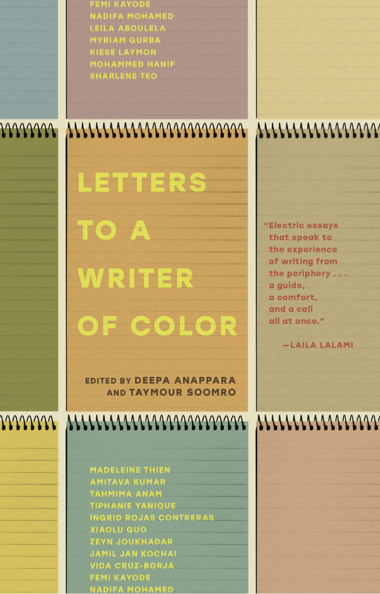 Letters to a Writer of Colour is a vital and fascinating new collection that examines the craft of writing through the lens of race and culture and asks us to think differently about how we read non-white, non-Western stories.
Most creative writing handbooks examine how fiction works from within the dominant white, Western aesthetic currently accepted as the standard for good writing and storytelling. With this anthology of thirteen essays by writers of colour, novelists Deepa Anappara (Djinn Patrol on the Purple Line, Chatto & Windus, 2020) and Taymour Soomro (Other Names for Love, Harvill Secker, 2022) will start a more inclusive conversation about storytelling traditions and craft, and encourage readers and writers to re-evaluate the codes and conventions that have over time shaped their assumptions about how fiction should be written.
Among other subjects, the anthology will ask how writers of colour can challenge popular writing maxims that may not be in keeping with their cultural ethos, such as the privileging of showing over telling, or minimalist writing styles over maximalist ones. The essays will combine memoir with aspects of craft such as character, style and dialogue to examine the expectations placed on writers of colour to act as translators of their race and culture for a white reader, and the impact of such expectations on their writing.
Contributors are set to include Madeleine Thien writing on structure, Tahmima Anam on humour, Nadifa Mohamed writing on violence, Xiaolu Guo writing on translation and Amitava Kumar on authenticity. The essays will feature writers from around the world, from different backgrounds and across genres.
Deepa Anappara and Taymour Soomro, anthology editors, say: 'As students of writing and as writers of colour, we discovered that most discussions on craft don't take into account cultural and racial variations in storytelling traditions, and instead adopt a narrow approach towards what constitutes 'good' writing. This book is a part of our effort to create a more inclusive conversation about writing fiction. We hope this anthology will offer emerging writers, particularly those who don't have access to writing courses or publishing industry networks, suggestions on the diverse ways in which we can tell our stories, centring our experiences and culture.'
Tahmima Anam, contributor, says: 'I'm thrilled to be taking part in this groundbreaking anthology. We know we need new stories, and now we have an opportunity to engage in a frank discussion about how we tell these stories, challenging and breaking apart long-held assumptions about how writing is taught.'
Xiaolu Guo, contributor, says: 'In this fresh and thoughtfully conceived anthology, I will be contributing an essay on translation and self-translation in the process of creative writing. Most books on creative writing are based on Anglophone or European reading and writing experiences. It is, therefore, very timely that this book provides a resource for writers from outside Europe and America as well.'
Charlotte Humphery, Commissioning Editor at Chatto & Windus, says: 'Deepa and Taymour are remarkable writers who have spent years thinking about the ways in which creative writing is taught, assessed and valued in the West. They are the perfect authors to curate and lead a thrilling list of writers in this vital anthology. Letters to a Writer of Colour will be a classic text for aspiring and working writers and for curious readers everywhere. But it will also be essential reading for everyone in the publishing and creative writing industries. Publishers, agents, booksellers; teachers, universities and short courses: Read this book!'
---
"A brave and triumphant act of resistance and decolonization, a necessary resource for writers and educators alike, and a must-have book for readers who care about diversity and inclusion in literature." – Nguyen Phan Que Mai, author of The Mountains Sing and Dust Child
"Funny, moving, thought-provoking, default-challenging, engaging, and full of so much heart and so many voices, this book feels to me like nothing less than a revolution." – Melissa Fu, author of Peach Blossom Spring
"No one interested in how we read and should read fiction can afford to miss this bracing and moving anthology." – Pankaj Mishra, author of Run and Hide
"Electric essays that speak to the experience of writing from the periphery… a guide, a comfort, and a call all at once." Laila Lalami, author of The Other Americans
"A feast of delights: impassioned, funny, instructive, and energizing. Here, matters of craft are interwoven with those of personhood and politics, offering a global range of perspectives rarely found in books on writing. I cherish this book deeply, like a friend I've been waiting all my life to meet." Tania James, author of Aerogrammes and The Tusk That Did the Damage
"A revelatory reading experience. A book that guides, teaches, and gives off its own shimmering light, that demands to be read and re-read. Letters to a Writer of Color should take its place at the forefront of the multitude of works on the art of writing and reading. This is more than a collection of essays, more than a chorus of voices of prodigious talent and wisdom. It is a treasure that contains within itself endless treasures, a book that will always bear new fruit and timely truths." – Katherine J. Chen, author of Joan
"I knew I would love this book as soon as I laid eyes on the title and the list of contributors, and it didn't disappoint – far from it. These essays provide so much wisdom and warmth, giving us a sense of restoration, of community. They take a refreshingly holistic view of the craft and balance real technical insight with deeply gentle humanity. I cannot wait for my students to read this book!" – Okechukwu Nzelu, author of Here Again Now
"If you want to find out how and why the best writing in English is coming from Asian, African, Black American and Caribbean sensibilities, then read this book. A splendid, carnivalesque troupe of writers discuss how they enrich Literatures in English by deviating from the 'white male aesthetic' that once dominated Creative Writing classes in academia worldwide. When you read this book, remember Louis MacNeice's line (in a different context), 'the drunkenness of things being various'." – David Dabydeen, author of Turner and Slave Song